Manufacturing Team Challenge
Conceiving, designing, and completing a manufacturing project as part of an effective and efficient team of specialists.
Manufacturing Team Challenge could be for you if you like:
Complex problems
Making things
Working as a team
---
More about this skill
While individual skills are important, being able to work with others as part of a team is the key to the success of any project.
This skill challenge brings together a team of complementary specialists that could include project management, electronics, programming, machining, and computer aided design. Time, cost, and quality are all factors in this competition.
It means that in addition to individual talents, participants must contribute to the team as a whole, showing self-awareness, interpersonal skills, and thinking outside the boundaries of their own area of expertise.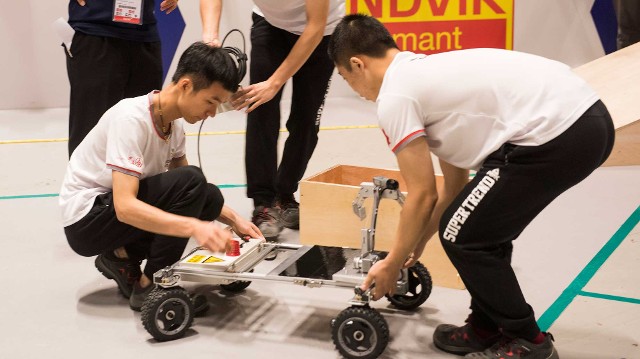 ---
Medallists
WorldSkills Abu Dhabi 2017
Tomohiro Aso

Japan
Gold

Taku Mogami

Japan
Gold

Yuhei Ueno

Japan
Gold

Willon Santos

Brazil
Gold

Thiago Lima

Brazil
Gold

Mateus Gomes

Brazil
Gold

Peitong Liu

China
Bronze

Yunan Gao

China
Bronze

Zhiyuan Zhan

China
Bronze

DOHUN KWAK

Korea
Bronze

SANGMIN LEE

Korea
Bronze

SURAK KIM

Korea
Bronze
WorldSkills São Paulo 2015
Yuta Kutsuna

Japan
Gold

Yohei Nakashima

Japan
Gold

Motohisa Obara

Japan
Gold

Hailong Yu

China
Gold

Shixiong Zhong

China
Gold

Chunlong Lin

China
Gold

Alex Massayuki Yonekubo

Brazil
Bronze

Fabiana Bonacina

Brazil
Bronze

Guilherme Campanez

Brazil
Bronze
WorldSkills Leipzig 2013
Chan Hui Jung

Korea
Gold

Jin Woo Hong

Korea
Gold

Byung Jin Lee

Korea
Gold

Katsuya Suzuki

Japan
Silver

Kouhei Suzuki

Japan
Silver

Yoshihiko Sakakibara

Japan
Silver

Wouter van der Ven

Netherlands
Bronze

Robbert Jan van Wijk

Netherlands
Bronze

Pim Bexkens

Netherlands
Bronze
---
Our partners

A Global Industry Partner, Fluke's products range from industrial electronic installation, maintenance and service, to precision measurement and quality control.Typical customers and users include technicians, engineers, metrologists, medical-device manufacturers, and computer network professionals.

As the leading manufacturer of CAM software for industrial applications and the education sector, Mastercam streamlines the entire production process from concept through completion. A Global Partner of WorldSkills International, Mastercam seeks to help talented youth build proficiency in four skills and prepare them for competition.
---
Standards Specification
The WorldSkills Standards Specification specifies the knowledge, understanding and specific skills that underpin international best practice in technical and vocational performance. It should reflect a shared global understanding of what the associated work role(s) or occupation(s) represent for industry and business.