Plastic Die Engineering
Designing and creating plastic moulds from designer drawings for mass produced products of high quality and low cost.
Plastic Die Engineering could be for you if you like:
Complex problems
Making things
Using computers
Working as a team
---
More about Plastic Die Engineering
Plastic die engineers are a crucial link in the manufacturing chain of products that range from cars, phones, home appliances, medical equipment, and anything that requires plastic.
They will create moulds using CAD/CAM computer assisted machining systems to be installed in injection moulding machines for the manufacture of plastic products.
A plastic die engineer needs high levels of skill in numeracy, hand and machining skills, polishing, assembling, testing, and troubleshooting.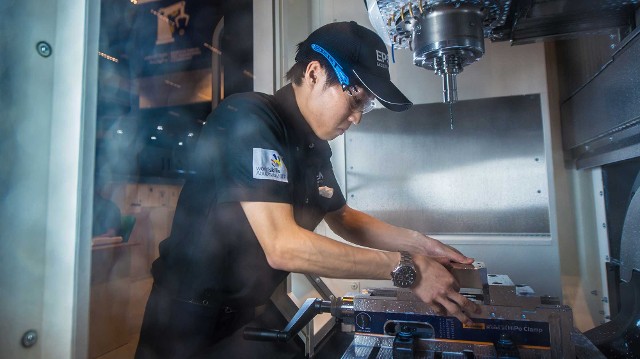 ---
Revent medallists in Plastic Die Engineering
WorldSkills Abu Dhabi 2017
Zhang Zhibin

China
Gold

NARAE KIM

Korea
Silver

Hayato Miyasaka

Japan
Bronze
---
Our partners

As the leading manufacturer of CAM software for industrial applications and the education sector, Mastercam streamlines the entire production process from concept through completion. A Global Partner of WorldSkills International, Mastercam seeks to help talented youth build proficiency in four skills and prepare them for competition.

The world's leading volume manufacturer of precision dimensional measuring equipment with product lines that range from basic hand tools such as micrometers, calipers, and dial gauges to the most accurate and sophisticated coordinate, contour, and form measuring machines With a workforce of more than 5,100 and a presence in more than 80 countries, Mitutoyo offers general metrological training for industry.

As a leader in electrification, automation and digitalization, Siemens offers automation hardware and software in sectors from automobiles to steel in more than 200 countries. It seeks to raise skills to industrial levels by providing world class products and knowhow to WorldSkills Competitors and Experts.
---
Standards Specification
The WorldSkills Standards Specification specifies the knowledge, understanding and specific skills that underpin international best practice in technical and vocational performance. It should reflect a shared global understanding of what the associated work role(s) or occupation(s) represent for industry and business.