CNC Milling
Shaping metal and other solid materials using a computer-controlled milling machine to create products used in almost every aspect of modern life, from cars and smart phones to kitchen appliances and prosthetic limbs.
CNC Milling could be for you if you like:
Complex problems
Making things
Using computers
Using tools
---
More about CNC Milling
Many of the appliances and objects we use every day depend on Computer Numeric Control (CNC) Milling. It is a highly sophisticated piece of machinery that creates components using precise cutting tools.
The machinist must be able to understand complex technical drawings, and have knowledge and experience of computer skills and software in order to become a skilled machine operator with an understanding of how various metals behave during the cutting process.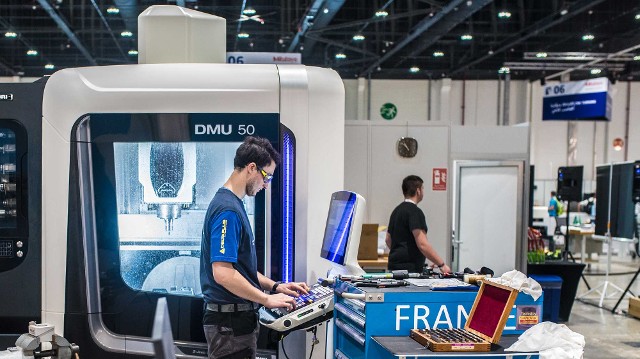 ---
Revent medallists in CNC Milling
WorldSkills Abu Dhabi 2017
Denghui Yang

China
Gold

Mitsuaki Kemmochi

Japan
Silver

JEONGJUN YOON

Korea
Silver
---
Our partners

A worldwide leading manufacturer of machine tools, DGM Mori products include turning and milling machines and advanced technologies that include ultrasonic, Lasertech and additive manufacturing. For national and WorldSkills Competitions it provides CNC machines and technical support and offers a training programme to competitors.

As the leading manufacturer of CAM software for industrial applications and the education sector, Mastercam streamlines the entire production process from concept through completion. A Global Partner of WorldSkills International, Mastercam seeks to help talented youth build proficiency in four skills and prepare them for competition.

The world's leading volume manufacturer of precision dimensional measuring equipment with product lines that range from basic hand tools such as micrometers, calipers, and dial gauges to the most accurate and sophisticated coordinate, contour, and form measuring machines With a workforce of more than 5,100 and a presence in more than 80 countries, Mitutoyo offers general metrological training for industry.

As a leader in electrification, automation and digitalization, Siemens offers automation hardware and software in sectors from automobiles to steel in more than 200 countries. It seeks to raise skills to industrial levels by providing world class products and knowhow to WorldSkills Competitors and Experts.
---
Standards Specification
The WorldSkills Standards Specification specifies the knowledge, understanding and specific skills that underpin international best practice in technical and vocational performance. It should reflect a shared global understanding of what the associated work role(s) or occupation(s) represent for industry and business.